Gen7 Swim Timing (Serial)
Product Details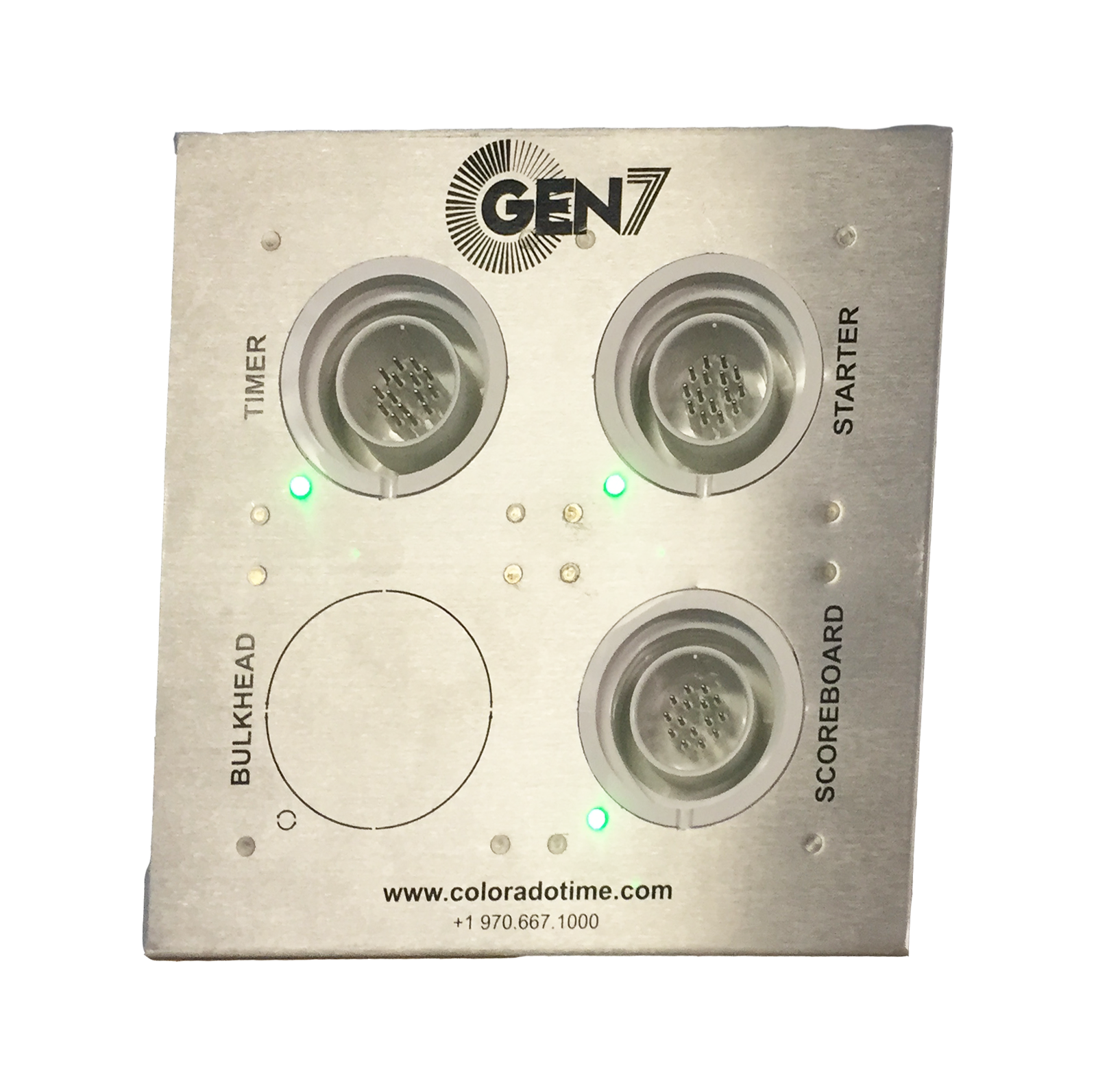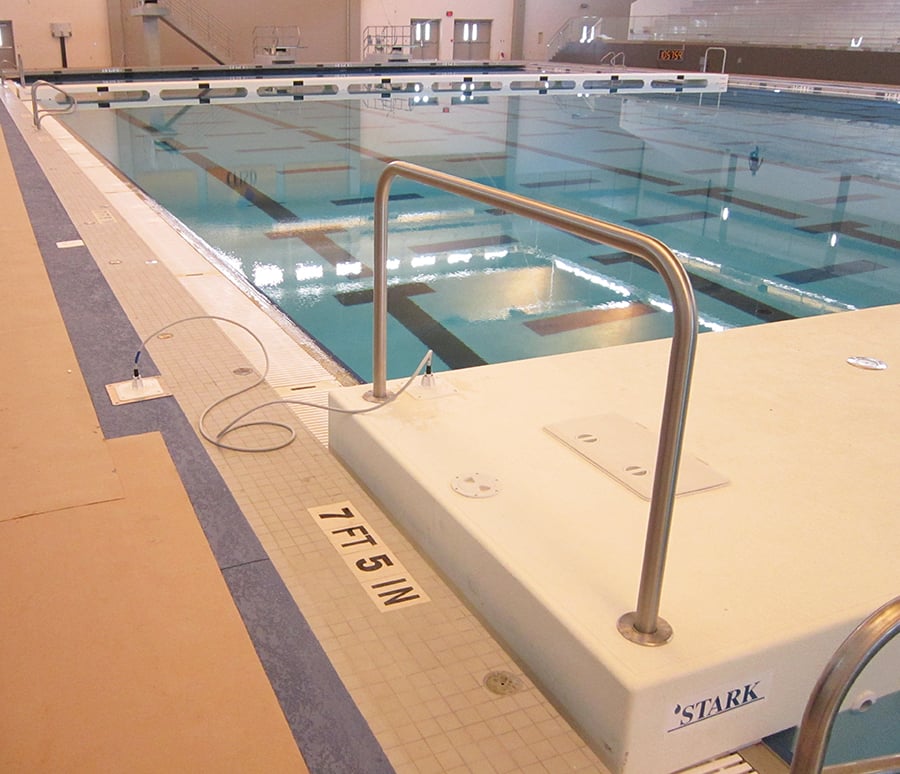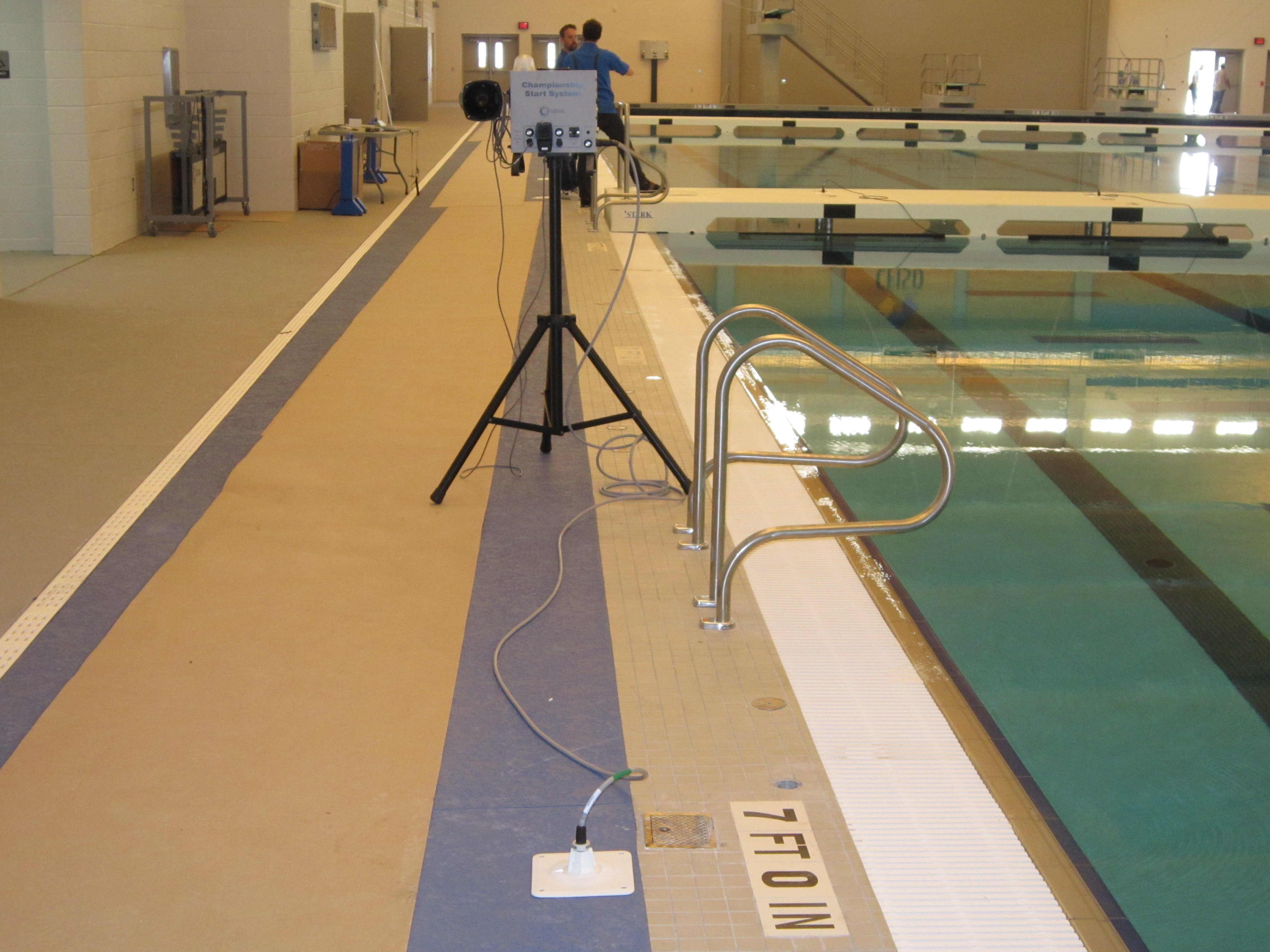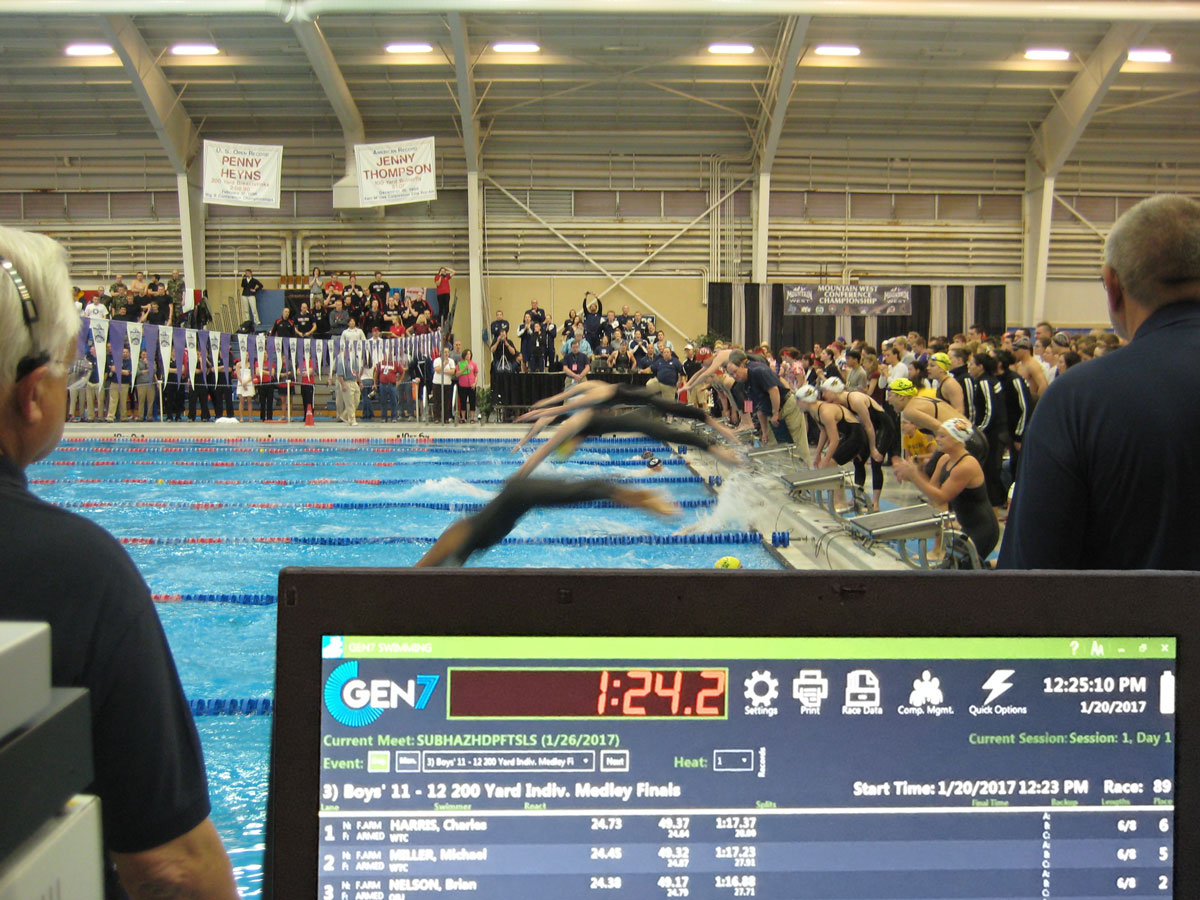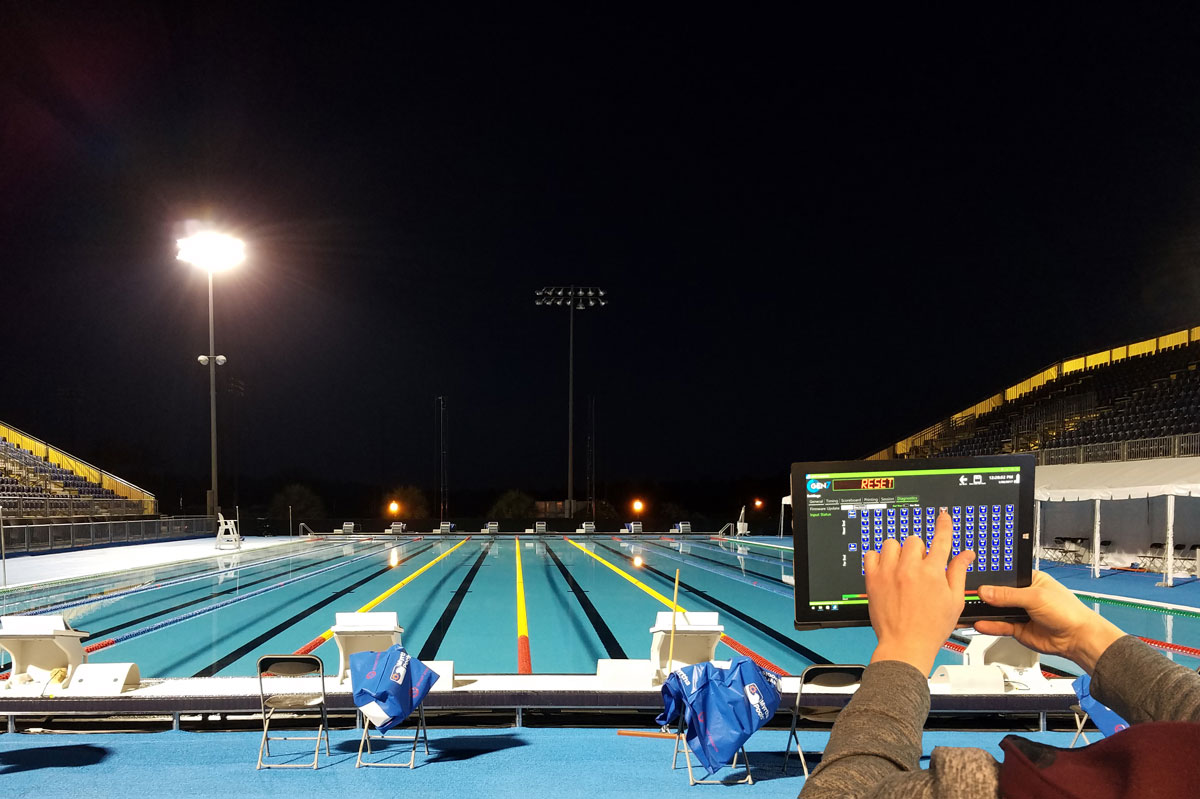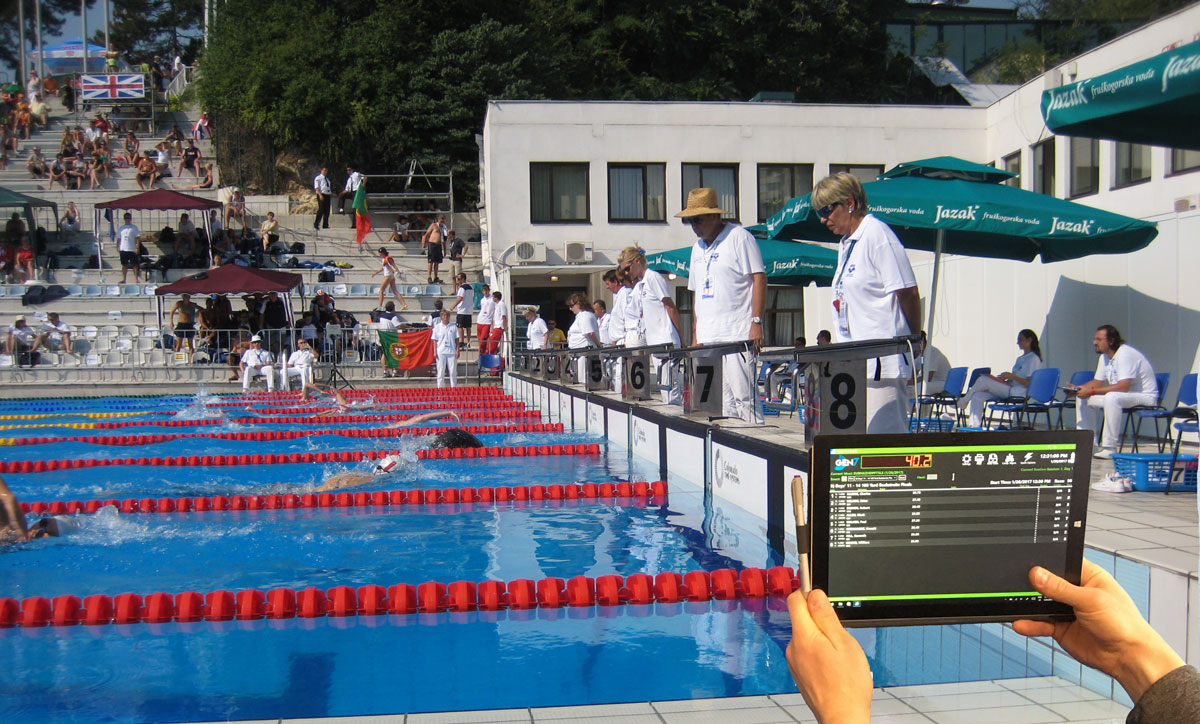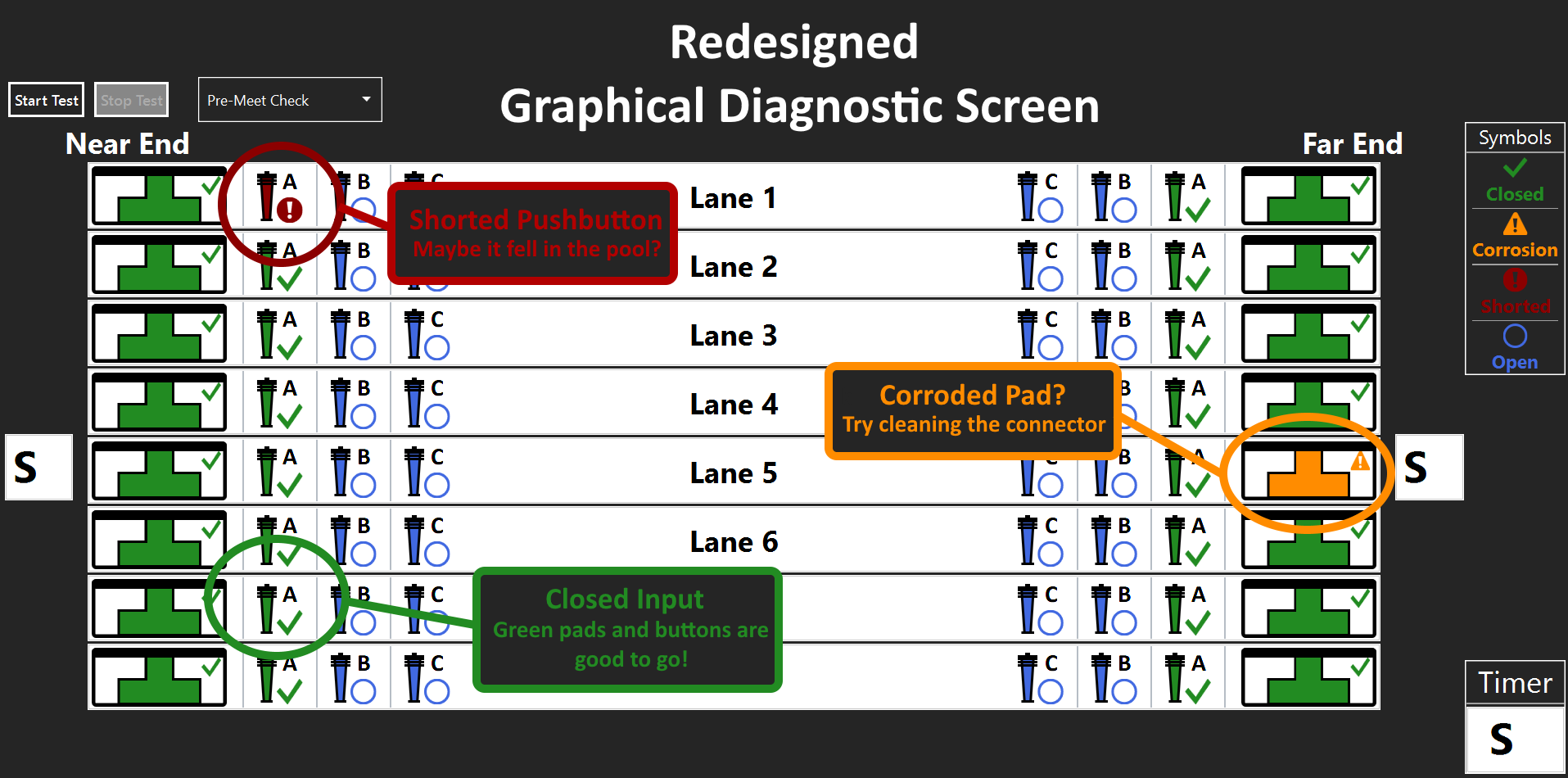 The Gen7 serial swim timing platform (U.S. patent number 10,137,535) provides you with long-lasting technology that will save you time and money. The software interface puts intuitive control of all levels of competition at your fingertips. This software combined with the distributed intelligence of our proprietary serial bus communication system give you the flexibility to run your swim meets your way.
What's New:
Intuitive software interface
Flexible user interface options
Integrated 2.4GHz wireless to scoreboards
Accurate, easy, and efficient pre-meet set up
Simple, robust bulkhead connectivity
Facility network connectivity
Minimal maintenance required
Race finish safeguard
Advanced diagnostics
Intelligent bus system
Reduced cabling, allowing facilities to utilize convenient 1.5″ conduit
Dynamic course layout
Simultaneous race support
Timing for up to 20 lanes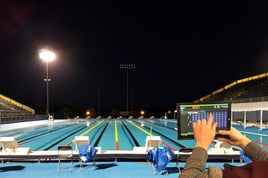 Intuitive software interface:

The Gen7 timer features a modern Windows user interface and is touchscreen friendly.
Flexible user interface options:

A Windows laptop or tablet is the primary user interface with connectivity to the timer via Ethernet. The Gen 7 timer can be placed at the timing table for a meet, or left in a secure office space and connect to the timing system via an office wallplate.
Accurate, easy, and efficient pre-meet setup:

Color coded and keyed cable connections, volunteer friendly, recognition of saved course configurations, quick confirmation that all equipment is in the correct location and plugged in.
Simple, robust bulkhead connectivity:

Gen7 sets a remarkable new standard for connecting your bulkhead to the timing system. The wet-pluggable floor plates for both pool side and the bulkhead mean you no longer need to attempt the challenging chore of keeping bulkhead connections dry and corrosion free.
Race finish safeguard:

All timing data is logged and saved on the Gen7 timer. Any issues with the user interface (laptop or tablet) are recoverable. The timer will continue running and will finish a race without the user interface.
Advanced diagnostics:

The advanced diagnostic features of the Gen7 timer save you time and money be allowing you to be proactive with equipment maintenance. The system will alert you if components are connected in the wrong place or become disconnected, including bulkheads, start system, touchpads, pushbuttons, relay judging platforms, speedlights, and speakers. Integrated pre-meet diagnostic screen allows you to check the system set up and health, eliminating the need to set up a meet in the timer to run test races. Proactive equipment maintenance lets you discover possible corroding connections throughout the timing system, and mitigate effects of corrosion until the component can be repaired or replaced.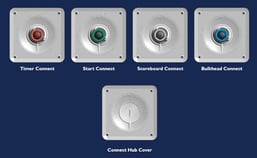 Connect hubs allow you the flexibility to design the best location(s) to connect your timer, start system, deck clocks, portable scoreboards, and bulkheads. Gen7 connect hubs feature titanium connections and are wet-pluggable, purging the water out of the hub while making a superior connection.

Gen7 wallplates feature LED indicators that provide system status at a glance.
Specifications
User interface: Ethernet to Windows laptop/tablet to timer
One timer for multiple races: Yes
Simultaneous courses: Up to 4 courses with one timer
Change pool configuration without unplugging timer: Yes
In-deck system flexibility: Smart wallplates and deckplates
Software updates: Ethernet to user interface; user interface updates timer
Diagnostic capability: Enhanced diagnostics
Network connectivity: Ethernet
Backup timing: Timer finishes race without user interface if necessary (race replay with raw data); second timer can be used for redundancy
3rd party meet management software connection: USB or Ethernet
Printer: Any external printer via laptop/tablet (USB or network)
Power supply: Internal 7.2 VDC NiMH battery or AC power brick; 8 hr battery life +/-
Scoreboard compatibility: LED numeric and video display scoreboards
Wireless scoreboard: Built-in 2.4GHz wireless
Part numbers and accessories:
GEN7-TMR: Gen7 Timer
R-920-05x: Power Supply - UL Type A (United States and Canada), CE Type C (Europe), CE Type G (UK), or CE Type I (Australia, China, etc.)
R-600-302: Laptop for user interface
USB2USB: USB to USB Coupler to connect meet management computer to Gen7 interface (laptop)
R-470-117: Gen7 Swimming software
R-470-118: Gen7 Swimming software maintenance
Connect hubs: Timer, starter, bulkhead, scoreboard, titanium deckplates
Wallplates
Connection cables: Starter, scoreboard, bulkhead, timer
Cable harnesses: Up to 20 lanes
Touchpad systems:
Includes primary cable harness, touchpad manual, one PB-6 per lane plus one spare, touchpad meter and vacuum pump. Touchpads are sold separately.
TP-GEN7-6: 6-lane Gen7 serial touchpad system
TP-GEN7-8: 8-lane Gen7 serial touchpad system
TP-GEN7-10: 10-lane Gen7 serial touchpad system
Certifications
FCC, cULus, RoHS compliant
Patents
US Patent no. 10,137,535
Support for Gen7 Swim Timing (Serial)
Software downloads
Repair and Service Forms
Call Us +1 970.667.1000
Help us understand the specifics of the equipment you need, We'll listen and offer honest recommendations.