Titanium Timing Connections – Unmatched Dependability in a Corrosive Environment
As featured in Athletic Business, February 2023
In December of 2022, the world record for the 400-meter Individual Medley was broken at the Lakeside Aquatics Club in Keller, Texas. When high school sophomore, Maximus Williamson, stepped onto the starting block at the Winter Junior Nationals, he had one goal in mind: to beat a personal record he had set for himself. Little did he know he would become the student-athlete who would break the world record held by 23-time Olympic gold medalist and world-renowned athlete, Michael Phelps. With a final posted time of 3:39.83, Williamson had surpassed Phelps' time by a little over 3 seconds. Williamson even surpassed his own personal goal by 0:00.17 seconds.
These seconds matter, even something as small as one hundredth of a second in every aquatic facility where competitive swimming competitions are held. Breaking records and achieving personal bests are the heart and soul of an athlete. Without an accurate timing of these seconds, athletes and coaches wouldn't be able to recognize the times that ultimately change the entire history of a sport and set new precedents for future competitions. Dependable timing is an essential aspect of competitive swimming.
When we look at the different types of technology used in a swim meet, the most visible is the swimming scoreboard. Scoreboards display real time information that athletes, coaches, and spectators anxiously examine during the entirety of a meet and even during practices. These scoreboards rely on data driven from various timing components that athletes utilize at the start and end of a race to record their final times.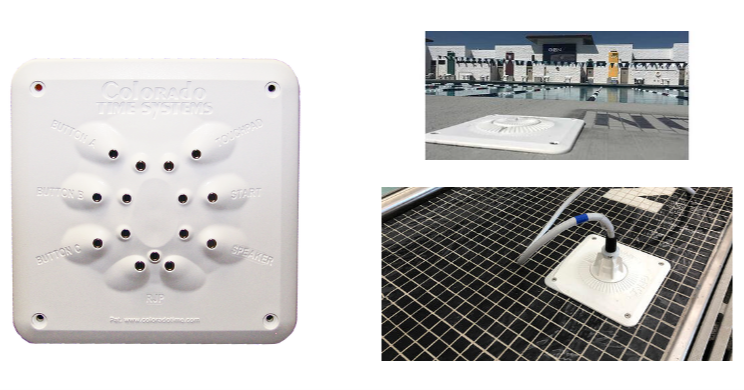 In the corrosive environment of an aquatics facility where chlorinated water is continuously splashed onto the pool deck and thus onto timing equipment, it is important that the connections to these timing components can function properly under such conditions. So, the question is, how does one create a durable piece of timing equipment for aquatic facilities that won't corrode when exposed to elements such as chlorine, bromine, and salt? While metals such as stainless steel are most commonly seen in standard electronic devices, they do not pair well with swimming pool environments due to the accelerated rate at which they corrode. Metals such as gold, graphite, and platinum are highly corrosion-resistant, but they are not often utilized due to their higher cost and low mechanical stability. Just above these metals on The Galvanic Scale is titanium. Titanium has the advantages of being more cost effective, lightweight, and as strong as steel. When faced with oxidation, instead of corroding, titanium produces a film-like barrier that strengthens over time making it the ideal metal for aquatic environments.
At Colorado Time Systems, we strive to bring facilities the most dependable swim timing technology available by utilizing titanium connections. The GEN7 Timing System brings aquatic facilities cutting edge technology and unmatched dependability with our titanium connection hubs that time all the way down to one hundredth of a second. This bus communication system not only protects from oxidation and corrosion but will purge water as the plug is connected to the deck plate or connect plate. These automatic functions drastically reduce maintenance costs saving your facility time and money and allows your timing system to function with ease. The Colorado Time Systems Titanium Deckplate is another example of a product that provides a simple solution to cabling requirements for touchpads, A/B/C backup pushbuttons, electronic relay judging, start speakers, and signals to start the timing device at each line. Their unique domed topography and titanium jacks drastically reduce any possibility of corrosion. By utilizing titanium in our connection hubs, Colorado Time Systems had successfully mitigated technical issues that occur during competitive swimming due to the surrounding aquatic environment allowing you to focus on the sport and thus the athlete.
Timing systems push competitive swimmers to conquer incredible feats. Colorado Time Systems believes in providing aquatic facilities the best technology possible, that requires the least amount of maintenance, so that your athletes can achieve their dreams and create new ones that exceed expectations. With over 50 years of experience, our knowledge in the aquatics industry has led us to create a product based on scientific research that provides the best user experience possible. These titanium connections are the ideal solution to cabling requirements for competitive swimming equipment. We understand that facilities have a commitment to provide the best competitive swimming event possible, which all begins with dependable timing.